UK Government Innovation Grants? Is it worth it?
During lockdown, the UK Government awarded over £130m of grant funding for Research and Development (R&D) activity to innovative businesses and their collaborators in the United Kingdom. The awardees were from multiple sectors including creative, engineering, digital health, education and sustainable energy.
With the Government relying heavily on UK innovators to reverse the Covid-19 downturn, vast sums of R&D grant funding are now in the pipeline for open competitions in late 2020 and early 2021. This means a substantial opportunity awaits innovative businesses of all stages that are willing to engage with the grant funding process. However, questions around eligibility, a lack of understanding around tackling applications and concerns over post-award administration hold a lot of potential recipients back. Let's get everything out in the open and make things a little more transparent.
Funders
There are a number of different organisations that deliver funding on behalf of the UK Government. For the purpose of this article, the focus is Innovate UK, whose mandate is to drive growth by funding projects that de-risk, enable and support innovation. Through the funding they deliver, they hope to bring as many innovative ideas as possible to their full commercial potential. They run regular open grant funding competitions (known as 'Smart Grants') where innovation from any sector is permitted and total project costs can range from £25k to £2m.
Benefits
There are some important benefits to highlight in relation to government grant funding. Firstly, it is non-dilutive, meaning you can raise extra funds without shedding equity. Secondly, it is a stamp of approval from the UK Government that your innovation has potential to be a market leader. Thirdly, the stamp of approval means you are much more likely to achieve follow-on investment. Analysis from the ScaleUp Institute shows that over the last year, Innovate UK's grant schemes "enabled 642 scaling companies to realise their growth trajectory, unlocking an additional £3bn in private capital on top of the £205m in grant funding provided" – quite the return! Finally, it provides an opportunity to take advantage of R&D tax credit schemes, meaning you can claim tax relief for work you are doing even as a loss-making company.
Financial challenges
The biggest hurdle to being eligible for an Innovate UK grant is to provide the required match funding. This depends on the size of your business and the stage of research and development that you are working on (e.g. feasibility study or experimental development). In nearly all cases, applicants are expected to provide a proportion of the total eligible project costs (sometimes known as match funding). The table below provides a brief overview of Innovate UK funding rates based on the aforementioned parameters. In the case of a micro/small company undertaking a feasibility study, Innovate UK funds 70% of total costs, meaning that the company and its partners will need to find (from any source) and evidence the remaining 30% of costs over the course of the project.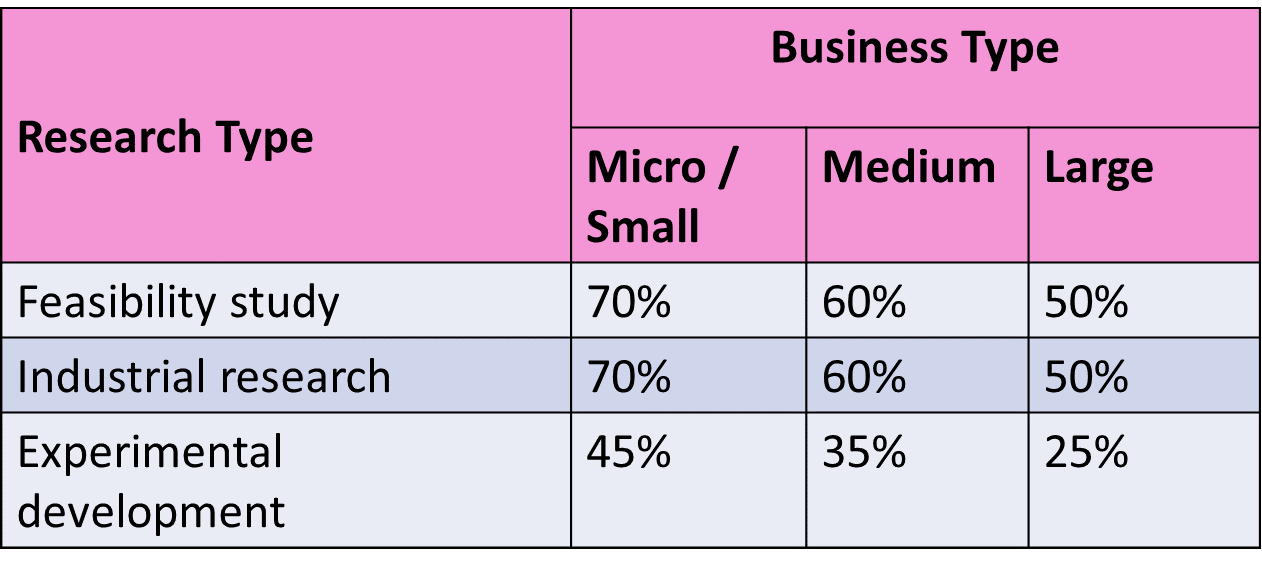 Pre-application (eligibility)
We often speak to potential clients that are unclear on whether or not they are eligible for R&D grant funding and, in fairness, the information on eligibility is woolly at best. This might be purposeful, in order to encourage applications from a wide variety of businesses with different solutions. The ambiguity might be a demand management exercise, turning off those companies that are unsure and subsequently reducing application numbers. If you're toing and froing on your eligibility to apply to Innovate UK, ask yourself a few questions first:
Does your innovation address a challenge of significant scale and magnitude?
Why has the challenge you are addressing arisen / why has it been so poorly addressed to date?
What is the market crying out for that the innovation can provide?
How is your solution truly challenging the nearest state-of-the-art?
Questions 1 and 2 focus on creating a narrative that will underpin your entire grant application. Without significant strength here, your application will flop. Question 3 is all about showing that there is/will be significant demand for your innovation, meaning that there is a big market to capture. Question 4 is paramount to your application because unless you can evidence that you're doing something that nobody else is, Innovate UK won't fund your project. If you can answer those questions positively, let the journey continue.
The application
We could talk all day about the details required for an Innovate UK application so I include some high-level guidance for how to improve your chances of success.
Treat it like a business case: Think of your grant application as an opportunity to show the market opportunity, lay out a detailed route to market and demonstrate in-depth knowledge of your business model. If nothing else, try and show that there will be a return on the investment over a range of years as you reach full commerciality.
You are requesting taxpayer's money: Show assessors how you have done/will do everything possible to use public funding wisely. Examples could be taking steps to protect your intellectual property, securing the time of expert advisors or exploring other sources of funding (e.g. VC/crowd/angel) and justifying why you are not using them.
Excite the assessors: Your assessors are likely to be reviewing multiple applications regularly. Stand out from other applications by consistently communicating the scope and magnitude of the problem your innovation addresses, as well as your technical and/or commercial innovation.
Evidence, evidence, evidence: For any assertion that you make within the application, you must provide evidence. This includes standard referencing for written reports e.g. (The ScaleUp Institute, 2020) but extends to describing team members' experience. For example, "From 2015 to 2017, Sarah ran a successful sustainability consultancy." In this example, you should include evidence such as annual revenue of the consultancy and information on exits. If you fail to evidence, you will lose marks quickly.
Assessment
Your application is reviewed by four to five assessors. Each assessor will provide a score out of ten for your answers to the questions. Assessors sign confidentiality agreements and do not see the scores of others. Written feedback accompanies the score they provide to each answer. You receive an average score for each of your answers and a total average score for your entire application before it is ranked against others.
We hear lots of varying opinion from clients on how they perceive Innovate UK assessors. Although application feedback can appear to be harsh in some cases, our experience suggests that the assessors are largely fair in their reviews. Innovate UK's assessment system ensures that you are protected against outliers (an overly negative or positive review) in the process so it is highly unlikely that one assessor would cause your application to be rejected.
What is important to mention is that assessors are encouraged to avoid the middle ground in their reviews, meaning you will be marked down strongly for errors and marked up equally as strongly for meeting the criteria. Read the application guidance carefully and cover all the information that is requested.
There is no required score to ensure you are successful. In fact, scores of successful applications vary greatly depending on how competitive the competition is. We usually say that an overall score of 70% puts you in a position to at least be considered for funding, with absolutely no guarantees. However, we recently had an application funded with a score of less than 70% and an application rejected with a score of 78%.
If your application is unsuccessful, do not be disheartened – the feedback is a gift! You now have a highly detailed set of comments from multiple assessors across all questions, meaning you can improve your application dramatically. Review all comments and create an action list of what should be maintained and what should be altered to elevate your application to the next level. Action them and redraft your document ready for the next round of funding. You are permitted to resubmit an application that is not materially different from a previous submission once, so make it count.
Post award
If your application is successful, you will navigate project set up. This usually involves some fairly basic financial matters, authoring an exploitation plan (there is a template…) and meeting your project Monitoring Officer (MO). Depending on the length of your project, it is likely that you will report quarterly to Innovate UK, consisting of a financial report and forecast and deliverables tracking to demonstrate progress. Our key piece of advice for running your project (aside from delivering it!) is to ensure that you spend your funding on time. The more you fail to meet your project spend profile, the more concerned your Monitoring Officer will be about your project. Let's face it, the last thing anyone wants on either side is micro-management. Monitoring of publicly-funded projects is often gauged on how money flows in and out of projects, so keep the cash flowing and that's half the battle.
Hopefully you now have an overview of what a typical grant application process looks like. If you would like more information or think you would benefit from our services, get in contact with us directly to have a no obligation chat with one of the team.